Audi A5 Key Battery Replacement
If your Audi A5 key fob remote is no longer working, it's likely you'll need to replace the battery. You may also receive a battery and key warning light and the following message on the information display: Remote control key: replace key battery.

Audi A5 Key Battery Lifespan
The lifespan of your Audi A5 key fob battery is around 3 to 4 years depending on use.
Audi A5 Key Battery Type
The battery type for your Audi A5 key fob is the CR 2032. It's the flat disc type battery that can be easily purchased online or in many stores.
Audi A5 Key Battery Replacement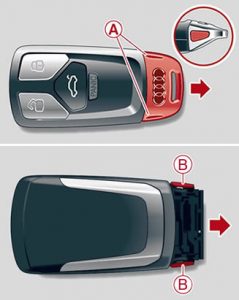 To replace the Audi A5 remote control key fog battery:
On either edge of the key fob are two buttons (A). Press and hold these in and pull out the mechanical / emergency key.
There will now be a further two buttons on either side of the key fob (B). Press and hold the buttons and pull out the battery holder in the direction of the arrow. This may be a little tough, so a gentle twist from side-to-side may help.
Take note of the old battery placement – the '+' of the battery is facing down onto the tray.
Insert a new CR 2032 battery in the same direction as the old battery.
Insert the battery tray back into the holder making sure it clicks securely in place.
Insert the mechanical key securely in place.
Use a battery recycling facility to dispose of the expired battery.