Fiat Fuel Cut-Off System Reset Procedure
Fiat Fuel Cut-Off System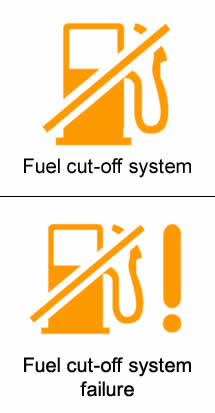 For both Fiat diesel and petrol versions, in the event of a vehicle impact, the fuel cut-off system intervenes causing:
the fuel supply to the engine to switch off.
doors to the vehicle to unlock.
vehicle internal lights to switch on.
the climate control ventilation system to deactivate.
the hazard warning lights to activate.
On certain models of Fiat, the fuel cut-off intervention is indicated by a message and warning light on the display dashboard panel. In the event of a fuel cut-off system failure, a warning light and dedicated message will also be displayed.
After a collision, place the igntion key into the STOP position to prevent the battery from running down. It's important to check the vehicle for fuel leaks. Check in the engine compartment, under the vehicle and around the fuel tank area.

Fiat Fuel Cut-Off System Reset Procedure
For certain models of Fiat vehicles, use this method to reset the fuel cut-off system.
| What to do | What happens |
| --- | --- |
| Place the direction indicator into the neutral position and switch the ignition to the STOP position. | |
| Switch the ignition key to the MAR position | Right direction indicator is flashing |
| Activate the right direction indicator | Left direction indicator is flashing and the right direction indicator is on constantly |
| Activate the left direction indicator | Right direction indicator is flashing and the left direction indicator on constantly |
| Activate the right direction indicator | Left direction indicator is flashing and the right direction indicator on constantly |
| Activate the left direction indicator | Both direction indicators stay on constantly |
| Deactivate the left direction indicator | Both direction indicators switch off |
| Switch the ignition key to the STOP position | |
| Switch the ignition key to the MAR position | The fuel cut-off system has been reset and the engine can be restarted |