Here are the possible reasons that that BRAKE warning light comes on the Mercedes Sprinter van dashboard.

Multiple Lights Including BRAKE Warning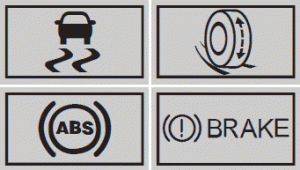 The yellow ESP (Electronic Stability Program), ABS (Anti-lock Braking System), ASR (Acceleration Skid Control) / BAS (Electronic Braking Assist) warning lights and the red BRAKE system warning symbol are lit while the engine is running indicates that EBD is malfunctioning or deactivated due to undervoltage or malfunction.
Electronic Brakeforce Distribution (EBD) is a driver vehicle safety feature that automatically varies the amount of force applied to each of the vehicle's brakes.
The amount of force distributed is based on road conditions, vehicle speed, loading weights etc. EBD is linked with ABS and is designed to maximize vehicle stopping power while allowing the driver maximum control.
If these warning lights come on together, there may be an issue with the battery not being charged, or sufficiently charged. With EBD failure, stopping distances may increase and due to ABS being deactivated, the wheels may lock under heavy braking.
BRAKE Warning Light Only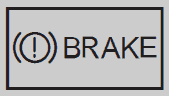 The Mercedes Sprinter BRAKE warning light, when illuminated alone without other related warning lights on the dashboard is an indication that brake fluid levels are running low. Check the brake fluid level in the expansion tank.
This is a sealed system – if brake fluid levels are below the minimum marker, adding brake fluid may not resolve the issue. A break in the circuit will significantly reduce the braking ability of your vehicle.
After adding fluid to the maximum marker on the expansion tank, check to ensure the light goes out. If the light remains on, consult a Mercedes-Benz engineer before continuing to drive.
Towing a Trailer
Additionally the BRAKE warning light may illuminate on the Mercedes Sprinter Dashboard when towing a trailer indicating that the brake force booster in the trailer is faulty. There is a risk of the trailer over-braking and a loss of control over the van / trailer combination. Risk of accident, do not continue your journey.
Warning Lights
If you are experiencing other warning lights on your Sprinter, see Mercedes Sprinter dashboard warning lights.
---