Toyota Land Cruiser Sensors Location
Modern vehicles come equipped with various driver assistance and safety systems. These systems rely on an array of sensors located around the vehicle. If these sensors are damaged, or have their ability to function properly due to being covered in dirt, ice or snow, you'll likely receive warning lights or messages.
The following driver assist systems make use of sensors located around the vehicle:
Pre-Collision System (PCS)
Lane Departure Alert (LDA)
Automatic High Beam (AHB)
Road Sign Assist (RSA)
Adaptive Cruise Control (ACC)
Blind Spot Monitoring (BSM)
Lane Departure Alert (LDA)
Rear Crossing Traffic Alert (RCTA)
Parking Assist
The location of the Toyota Land Cruiser sensors is as follows: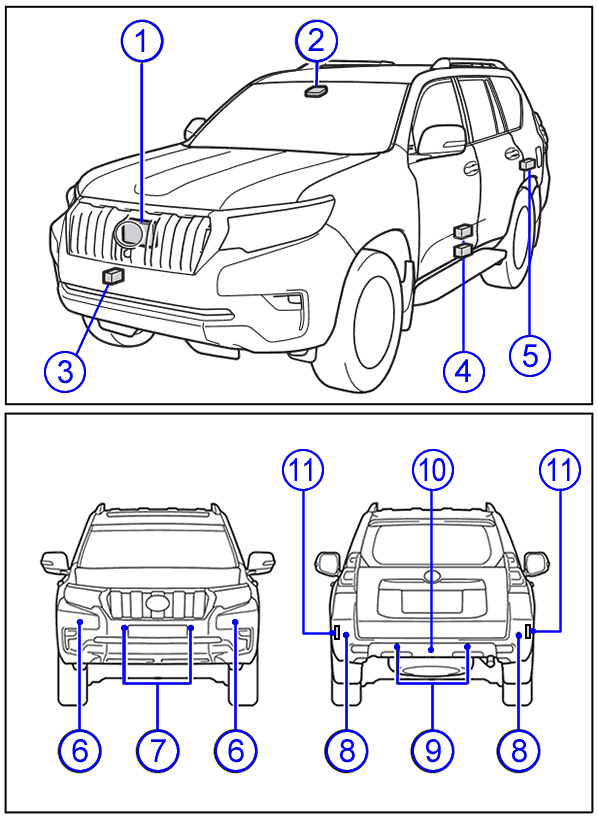 Front radar sensor
Front camera
Airbag front impact sensor
Airbag front side impact sensors
Airbag rear side impact sensors
Front corner parking sensors
Front center parking sensors
Rear corner parking sensors
Rear center parking sensors
Safing sensor
Rear corner radar sensors
Keeping the areas where the sensors are located clean and free from snow and ice will ensure proper functionality of the driver assist systems. Avoid placing stickers on the vehicle's bumpers that may impede parking sensors and rear corner radar sensors. The front camera is located ahead of the rear-view mirror and requires the windshield being kept clean for proper functionality.
Toyota Land Cruiser Warning Lights
If you want to find out more about your vehicle's warning lights, see Toyota Land Cruiser dashboard warning lights for more information.