The Mercedes red triangle with a car warning light comes on due to the Active Brake Assist function. Based on your current speed and when several seconds have passed, if Active Brake assist determines that your distance from the vehicle in front is not sufficient, the red triangle warning light will display.

If you are driving critically close to another vehicle or pedestrian, the red warning light will display along with a warning tone. In this instance, you are either too close to the object in front, or approaching the object at too high a speed. Be prepared to immediately brake to increase your distance from the object in front.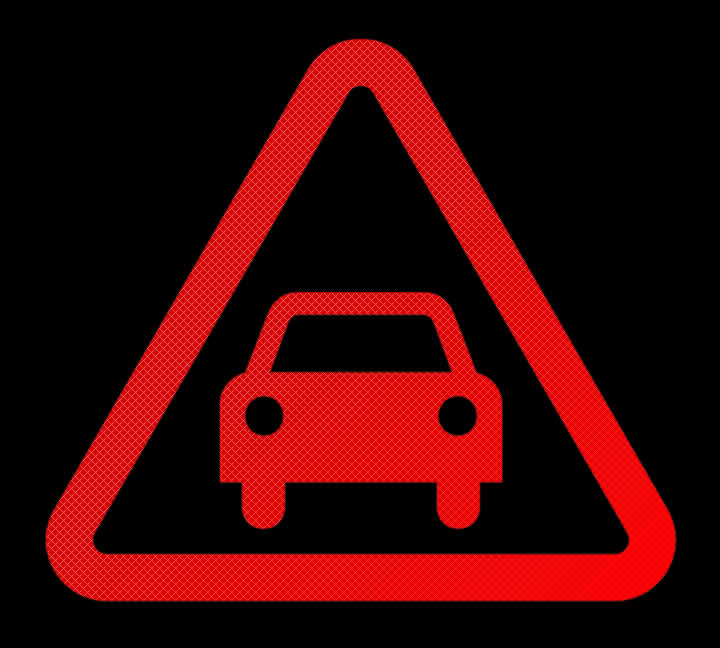 Inaccuracies of the System
The red triangle warning light may inadvertently illuminate, or the system may fail to operate in the following conditions:
Weather conditions such as snow, rain or fog
Lighting conditions causing glare
Where lighting conditions vary significantly
Dirty or covered radar sensor. Radar sensors are integrated behind the bumpers and/or behind the radiator grille. Keep these areas free of dirt, ice and snow and avoid covering.
Radar interference
Loss of tyre pressure
Objects that move quickly into the radar sensor range
Highly complex road and traffic situations where object may not be identified
On tight road bends
Switching Off Active Brake Assist
Although it's recommended that you always leave Active Brake Assist switched on, you can alter the sensitive of the system or if preferred, switch it off. To switch off or alter the Active Brake Assist setting, on the multimedia system, select the vehicle icon

then select 'Assistance', then Active Brake Assist.
You can adjust the moment of warning or intervention from low, medium to high, or switch off Active Brake Assist. When the ignition is next switched on, Active Brake Assist will be activated and will operate within the 'medium' setting.

---