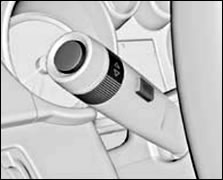 A warning light illuminates on your Vauxhall Insignia dashboard when a fault has been detected. You may also receive a message or an error code. Error codes are generally related to minor faults.
These error codes aren't the same as the fault codes that can be read using diagnostic equipment, but finding out what the error code is related to by using the list below will help you identify what the problem is.
To confirm the error code or message, press the SET/CLR button, the MENU button or turn the adjuster wheel.

| Code No. | Related Fault Message |
| --- | --- |
| Code 2 | The radio remote control has not been detected. Press the clutch pedal to restart. |
| Code 3 | Engine coolant level low. |
| Code 4 | Air conditioning off. |
| Code 5 | Steering wheel is locked. |
| Code 6 | Press the brake pedal to release the electric parking brake. |
| Code 7 | Turn the steering wheel, switch ignition off and then back on. (This is related to the steering lock). |
| Code 9 | Turn steering wheel, start engine again. |
| Code 12 | Vehicle overloaded. |
| Code 13 | Compressor overheated. |
| Code 15 | Centre high-mounted brake light failure. |
| Code 16 | Brake light failure. |
| Code 17 | Headlight leveling malfunction. |
| Code 18 | Left low beam failure. |
| Code 19 | Rear fog light failure. |
| Code 20 | Right low beam failure. |
| | |
| --- | --- |
| Code 21 | Left sidelight failure. |
| Code 22 | Right sidelight failure. |
| Code 23 | Reversing light failure. |
| Code 24 | Number plate light failure. |
| Code 25 | Left front turn signal failure. |
| Code 26 | Left rear turn signal failure. |
| Code 27 | Right front turn signal failure. |
| Code 28 | Right rear turn signal failure. |
| Code 29 | Check trailer brake light. |
| Code 30 | Check trailer reversing light. |
| Code 31 | Check left trailer turn signal. |
| Code 32 | Check right trailer turn signal. |
| Code 33 | Check trailer rear fog light. |
| Code 34 | Check trailer rear light. |
| Code 35 | Replace the battery in radio remote control key fob |
| Code 48 | Clean side blind zone alert system. |
| Code 53 | Tighten gas / fuel cap. |
| Code 54 | Water in diesel fuel filter. |
| Code 55 | Diesel particle filter (DPF) is full. |
| Code 56 | Tyre pressure imbalance on front axle. |
| | |
| --- | --- |
| Code 57 | Tyre pressure imbalance on rear axle. |
| Code 58 | Tyres without TPMS sensors detected. |
| Code 59 | Open and then close driver window. |
| Code 60 | Open and then close front passenger window. |
| Code 61 | Open and then close rear left window. |
| Code 62 | Open and then close rear right window. |
| Code 65 | Theft attempted. |
| Code 66 | Service theft alarm system. |
| Code 67 | Service steering wheel lock. |
| Code 68 | Service power steering. |
| Code 69 | Service suspension system. |
| Code 70 | Service level control system. |
| Code 71 | Service rear axle. |
| Code 74 | Service AFL (Adaptive Forward Lighting). |
| Code 75 | Service air conditioning. |
| Code 76 | Service side blind zone alert system. |
| Code 79 | Top up engine oil. |
| Code 81 | Service transmission. |
| Code 82 | Change engine oil soon. As engine oil ages, it fails to lubricate the engine effectively and can cause excessive wear on engine components. |
| Code 83 | Service adaptive cruise control. |
| Code 84 | Engine power is reduced. Reduced engine power also know as 'limp mode' is a safety feature that helps to prevent further damage to the engine due to a fault. |
| Code 89 | Service vehicle soon. |
| Code 94 | Shift to park before exiting. |
| Code 95 | Service airbag. |
| Code 128 | Hood / bonnet open. |
| Code 134 | Park assist fault, clean bumper (Parking sensors on the bumpers requires cleaning). |
| Code 136 | Service parking assist. |
| Code 145 | Check windscreen washer fluid level. |
| Code 174 | Low vehicle battery. |
| Code 258 | Park assist off. |
---