Renault Kadjar Tyre Pressure Light and Reset Procedure
The Renault Kadjar tyre pressure monitoring system (TPMS) alerts the driver when one or more tyres have deflated. Except for the spare, each wheel is fitted with a sensor which monitors air pressure inside the tyre. On the instrument panel display (1), the TPMS symbol will alert the driver if a tyre has become deflated or if there's a fault with the system.

Renault Kadjar Tyre Pressure Reset
Resetting the tyre pressure system should be done: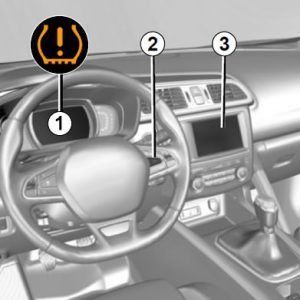 after checking or changing all four tyre pressures. This may be due to usage conditions such as carrying a load for example. This should be done when the tyres are cold.
after changing or swapping wheels
To reset the tyre pressure monitoring system:
Switch the ignition on.
Repeatedly press the button (2) to select the tyre pressure display and the tyre pressure function.
Press and hold button (2) for approximately 3 seconds to launch the reset procedure.
The flashing tyres will now display followed by the message Learning TP initiated and then Tyres location in progress. The tyre pressure reference value request has been acknowledged.
The reset procedure can take several minutes of driving.
If the resetting procedure is conducted over a short driving trip, the message Tyres location in progress can remain displayed after successive restarts.
Using the Navigation System
If your Renault Kadjar is fitted with a navigation system, the tyre pressure resetting procedure can also be done via the multifunction screen (3). To do this, select menu Vehicle, Tyre pressure and follow the instructions.
Locating the Correct Tyre Pressures
The correct tyre pressure for your Renault Kadjar can be found inside the driver door frame. The tyre pressure should not be less than the recommended values.
When to Check Tyre Pressures
Check pressures when the tyres are cold. If it's not possible to check the pressure when tyres are cold, the recommended pressures should be increased by 0.2 to 0.3 bar (3 PSI).
---